Apply for a Grant
We look for proposals that offer creative, sustainable solutions that celebrate the abundance of gifts within and among a community.
We're focused on faith-based social impact programs and community programs and services to benefit those living in poverty. Social services, spiritual conditions, access to resources, improvement in conditions, and positive perspectives are the metrics we use to measure positive impact.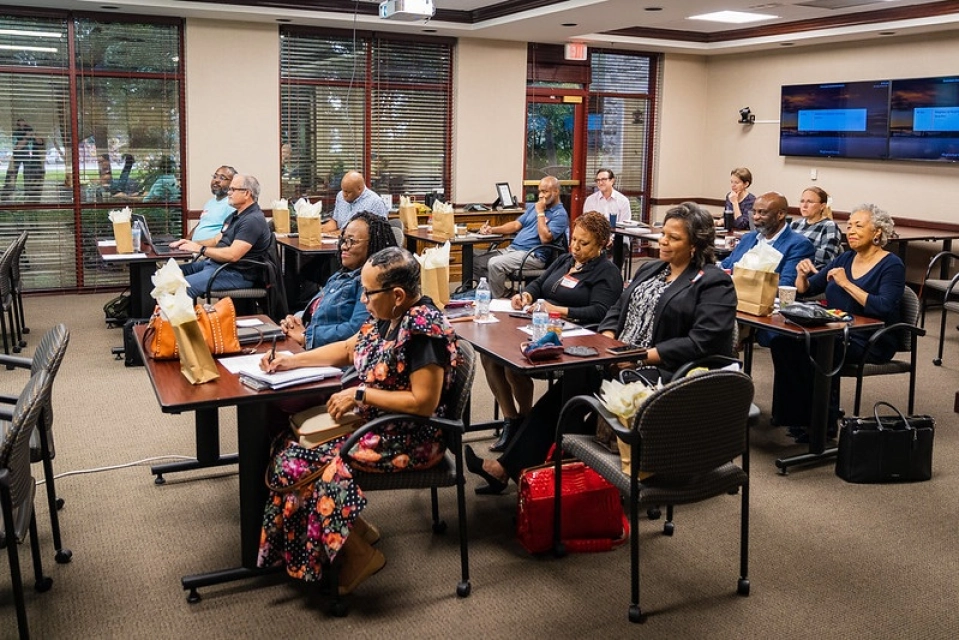 Application Process
Competitive Grant Cycle
To begin the application process, submit an LOI, you will receive an automated email confirming TMF's receipt. If you don't receive an automated response, please contact Administrative Assistant to Grants Ministry, email hidden; JavaScript is required. You will be notified whether your LOI was accepted or rejected by email. If your LOI is approved for the next step in our grants process, you will receive a link to our grant application in the approval email. The Grant application is due no later than January 31, 2024.
Current Competitive Grants Cycle: Important Dates
LOI Submission: November 1, 2023 – November 30, 2023
Application Information Session: November 07, 2023, 10:00 a.m. or 2:00 p.m Central Time.

Application Submission (if approved): December 15, 2023 – January 31, 2024
Approval: Late April 2024
Distribution of Funding: May 2024
Contract Reporting Period: July 1, 2024 – June 30, 2025
Guidelines and Eligibility
If you are considering submitting an LOI for funding, please review the Guidelines and Eligibility information first. Details on eligibility can be found in TMF's Grants Portal.
If you would like to review your project or program with a staff member, please email Vice President of Grants Ministry, email hidden; JavaScript is required with a brief executive summary and contact information.
Eligibility
Be a 501(c)(3) organization
Provide services in Texas and New Mexico
Provide services that align with the focus areas
Key Criteria for Successful Applications
Highlights the potential that may be seen if resources were available
Outlines well-planned and efficient use of funds
Identifies adequate local and extended support to sustain the project beyond the grant period
Utilizes relevant collaborative partners and resources networks
Includes sufficient volunteer leadership and staffing, where appropriate
Additional Organizational Criteria
In addition to determining basic eligibility, TMF considers the following as part of the due diligence process:
Robust and stable leadership and governance
Sound financial management
Ability to achieve impact and help drive our vision and mission
Recognition of the interconnected nature of challenges facing churches and communities
Deep engagement with those whom the organization serves
Demonstrate commitment to partner and collaborate to achieve impact
Evidence that the proposed approach is likely to be effective and provide a significant opportunity to advance the field
Commitment to defining clear goals and tracking results, learning and adapting, and sharing learnings with others
Grant funding is generally not available for:
Individuals
Organizations that do not have a current 501(c)(3)
Capital expenditures
Endowment funds
Annual fund campaigns
Debt retirement
Research
Programs or services that do not serve communities in Texas or New Mexico
Lobbying efforts, as defined by the Internal Revenue Service
Typical Grant Award Size
Grant award amounts vary by request and are subject to funding available per year.
Number of Applications per Cycle
We allow one grant application from an organization per cycle. We encourage organizations to structure their application to reflect all the services and related costs for which they seek support.
If Our Organization is Invited to Submit Full Application
If you are invited to complete a full application, TMF staff members have determined that your idea may align with current priorities and we are interested in learning more.
The Grants team and committee will review submitted applications and present funding recommendations to the TMF Board of Directors. However, an invitation to complete a full application does not guarantee funding.
The selection process is highly competitive, and we are frequently unable to fund proposals even though they have merit.
Grant Writing Team and Contacts
Your grant writing team should include the people who have authority to make administrative decisions for the project and have access to budget and leadership data. Your primary contact in the TMF application system should be the CEO, Executive Director, Sr Pastor, or person responsible for the work.
Previously Funded Organizations
Please visit our Partners in Ministry