Texas Methodist Foundation Grant Recipients Make Positive Social Impacts through Innovative Faith-based Initiatives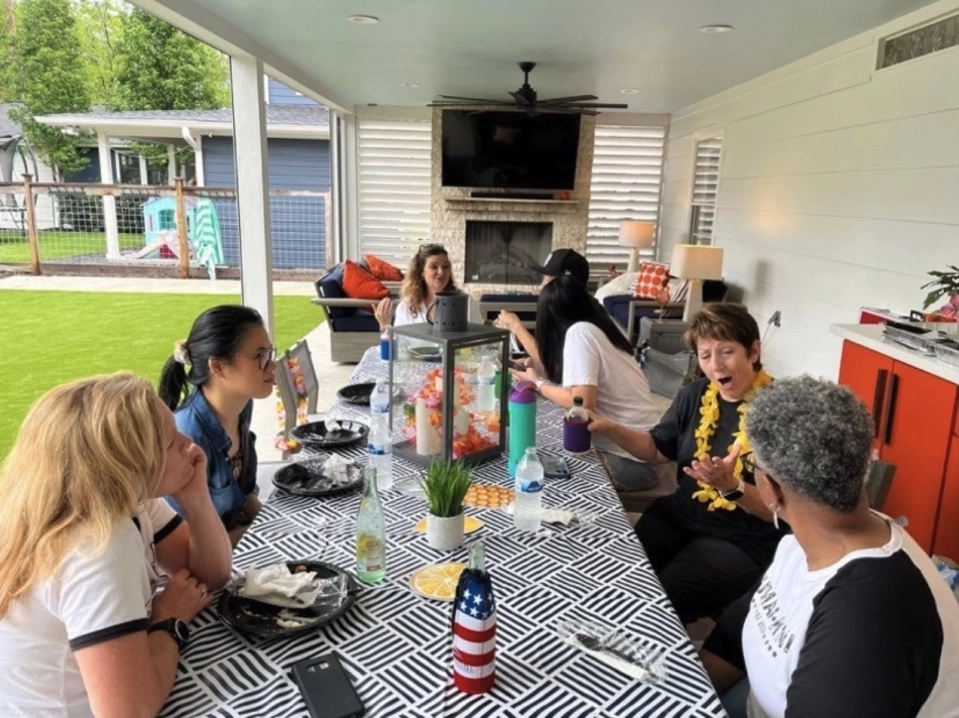 Texas Methodist Foundation (TMF), a leading grantor in Texas and New Mexico dedicated to investing in bold solutions bringing about the loving world that God imagines, is pleased to announce it has awarded $1.1 million to 34 churches, schools, and organizations during its 2023 grant cycle

Grant recipient programs and ministries are making positive social impacts through innovative faith-based initiatives that improve the conditions of those living in poverty and directly serve the needs of individuals in ways that strengthen the social fabric of neighborhoods and communities. In addition, many programs promote spiritual life as core to personal health and well-being and vibrant community life.

"We are excited to support new and important programs, including churches spreading God's love through social impact and nonprofits delivering services in innovative ways. All recipients utilize Asset-Based Community Development, deepening their connections in the communities they serve. TMF's Grants Ministry is more than a funder – we are a partner and collaborator with our grantees this year and beyond." comments Wendy Abel, TMF Vice President of Grants.

This cycle's grant recipients, creating innovative approaches that build personal and community well-being, include the following:

Rosa es Rojo works to prevent cancer and chronic illness in Hispanic women through culturally relevant health and wellness education offered in Spanish.
Special Reach provides opportunities for special needs youth to enjoy the same activities their peers do while offering respite to their parents.

The Landing helps survivors of human trafficking recover from trauma to lead productive lives, raise public awareness, and advocate for laws and services to help survivors.

The New Wineskin Initiative trains and mobilizes leaders to build relationships in their neighborhoods, map assets, and support different forms of faith gathering.

United Campus Ministry at Texas State University, helping young adults explore God's purpose in their lives by actively helping their local neighborhood flourish.

"The TMF grants ministry is made possible by the many donors who have chosen TMF to steward their charitable resources, often in the form of family endowments. Their generosity is a testament to the depth of their commitment to the church and the communities it serves. We are honored to partner with them to support their philanthropic planning," said Justin Gould, TMF's Chief Philanthropy Officer.

Additional spring 2023 grant recipients include:

AMEC Publishing House- Virtual Grace supports Gen X - WWII (ages 50-100) members grieving aging-related losses compounded by the pandemic. Seniors can engage in a vibrant online community for education, fellowship, prayer, and spiritual development.

Arizona-New Mexico District-The New Mexico Parish Community Building Program focuses on making new neighbors, not just new members. It promotes outreach and community development, serving Native Americans, African Americans, Hispanic Americans, Single Parents, and Young People.

Big Thought-The Creative Solutions program fosters creativity, enhances job skills, and promotes positive self-image and social-emotional development. The program reduces recidivism by empowering youth to create their own performance or visual arts exhibition.

Christian Community Action- Crisis Management Services meet critical needs: rent and utility assistance, client-choice Food Pantry for dignity in poverty. They offer rental aid, application fees, security/utility deposits, counseling, and a self-selection grocery store.

CitySquare Paris- The Neighbor Resource Center offers laundry, showers, meals, and case management. It provides immediate relief and fosters long-term change by helping neighbors achieve their goals through Resource Navigators.

Counseling Paid Forward- PF uses a volunteer team to identify individuals who need counseling. They contract licensed counselors, providing short-term counseling within 24 hours. They also connect clients with resources like employment skills and children's programs.

Fort Bend Hope- Fort Bend Hope offers free ESL, GED, citizenship, computer literacy, and basic literacy programs for adults. They provide an after-school program and summer reading camp for children, with minimal annual registration fee for adults.

Harmony Community Development Corporation- Harmony Housing and Resource Center supports women and girls, providing rental, mortgage, and utility assistance to prevent homelessness. Additional support includes transportation, childcare, and payday loan resolution.
Housing Crisis Center- HCC's poverty prevention efforts provide housing programs and services, lifting participants out of homelessness and poverty. Activities integrate employment, financial coaching, income support, and wrap-around services.

Interfaith Family Services- Hope & Horizons provides after-school and summer financial coaching programs for children of parents. Through assessments and educational plans over 30 social and emotional skills are taught through activity-based instruction.

Journey of Faith UMC- The Church Can Happen Anywhere (CCHA) focuses on evangelism through programs such as prison outreach, fitness, and nutrition, basic needs assistance, technology, worship experiences, bridging community needs and spiritual formation.

Lifetime Recovery- Lifetime's Residential Treatment program is an intensive 45-to-90-day program focused on trauma-informed care and addiction recovery. The program includes weekly educational sessions, group activities, and therapy sessions.

Lone Star Justice Alliance- Reimagining Justice for Young People (RJYP) removes barriers for justice-involved youth and emerging adults through record sealing and expunction legal services. LSJA's partner organizations promote economic mobility and reduce recidivism.

McMurry University- The War Hawk Success Plan provides holistic support to every McMurry student, guiding them through their college journey with academic resources, counseling, experiential learning opportunities, and career planning. It aims to break the poverty cycle for first-generation and economically disadvantaged students.

Memorial Assistance Ministries- MAM's Employment Services program supports individuals in finding and keeping well-paying jobs through coaching, workshops, vocational training, and post-placement assistance.

Nehemiah Center, Inc.- The After-school Academic Enrichment Program levels the academic playing field for at-risk children through tutoring, meals, Bible study, cultural enrichment, and comprehensive support for their families.

Project Transformation North Texas- PTNT removes poverty-related obstacles to academic achievement through after-school and summer programs and mentorship, partnering with churches and college student mentors in North Texas.

Saranam- Saranam offers transitional housing, basic needs, education, vocational coaching, case management, and community support to help families achieve self-sufficiency through intensive case management.

Sharing Life- Basic needs assistance for working low-income families, including food, clothing, rental/utility assistance, workforce training, and financial coaching.

Sheila B. Ministries, Inc.- The 'Grammies' program supports custodial and non-custodial grandparents caring for grandchildren, empowering them to overcome challenges, connect with others, and access available government and nonprofit resources for their specific needs.

Small Places- The Neighborhood Produce Program (NPP) delivers free fresh produce, meat, eggs, and pantry staples to households in need. They prioritize a human-centered approach, simplifying food security without requiring documentation.

St. Paul's United Methodist, Albuquerque- St. Paul's UMC in Albuquerque, NM, uses Fresh Expressions to connect with people where they are and provide holistic care. This grant will support various ministries like Food Box Distribution, Dinner Church, Recovery Church, and more.

Synergy Wesley Foundation- Synergy Wesley Foundation provides free therapy, spiritual direction, and group work for students. Through individual sessions, reflection, and group activities, students receive comprehensive support for personal growth and faith development.

TCU Wesley Foundation- At TCU Wesley, they provide mental health support and access, spiritual direction, and pastoral care for students. They match students with LPCs, offer funding assistance, and educate them about mental health and Christianity.

The Oikos Institute- Discover and Dream supports BIPOC congregations in Dallas to increase vitality, embrace their call to discipleship, and create social impact. Congregations reclaim their identity, develop plans, and identify resources for community impact with project grants and coaching.
The Restoration Team- TRT's home repair program ensures safe, stable homes by guiding families through every step of the repair process.

The Way Back House- TWB offers comprehensive services throughout the re-entry journey, including in-prison transformation, post-release case management, and personalized support for stability, including housing, healthcare, employment, and spiritual guidance.

UCF Wesley Foundation- The Holistic Being project focuses on spiritual and leadership development, mental health, and conflict resolution to engage students in meaningful conversations and address their needs.

Wesley-Rankin Community Center- The 2023 Scholars Program offers academic support and parent training for children with dyslexia or learning differences. It consists of three 12-week sessions using the SEE curriculum and MSL approach. Wesley-Rankin provides additional tools and resources for families.


About Texas Methodist Foundation

Texas Methodist Foundation is a nonprofit lender and charitable services partner dedicated to empowering the church to achieve its God-appointed mission and investing in bold solutions for bringing about the loving world that God imagines through cultures of purpose, generosity, and courage. Texas Methodist Foundation is one of the largest Methodist foundations in the country, helping churches and nonprofit ministries grow through investments, loans, grants, leadership platforms, gift planning, and endowment services. Texas Methodist Foundation serves organizations throughout Texas and New Mexico. Texas Methodist Foundation is based in Austin, Texas. To learn more, please visit tmf-fdn.org.