Texas Methodist Foundation Awards $1.2 Million in Grant Funding to 49 nonprofits
Texas Methodist Foundation Awards $1.2 Million in Grant Funding to 49 nonprofits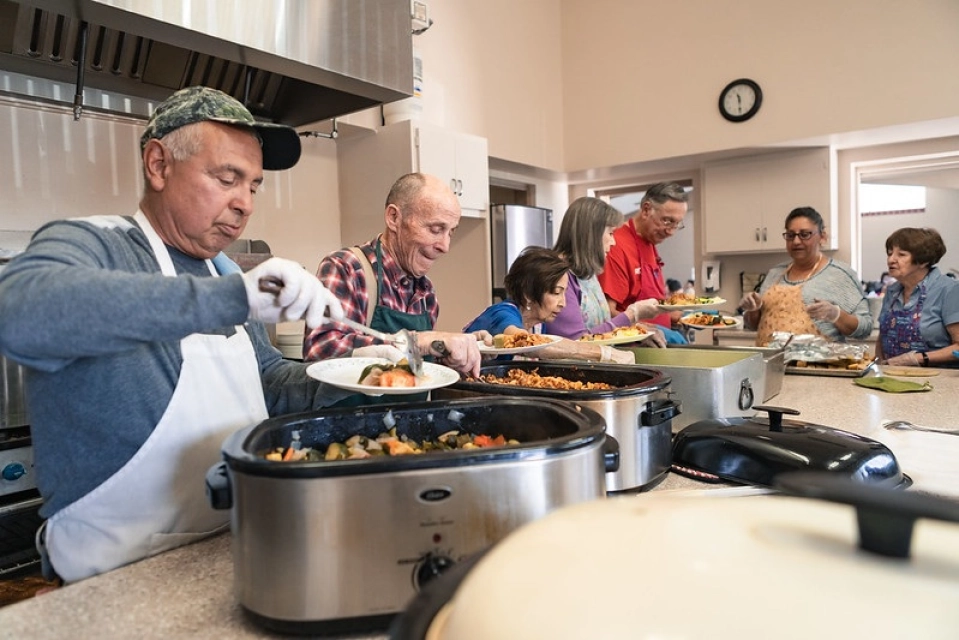 During the spring grant cycle, TMF awarded $1,293,175 to 49 nonprofit organizations serving in one of four areas of focus. These areas of focus were recently reassessed and redefined by the grants committee to include improving the condition of those living in poverty, outreach, community programs and services, and need-based scholarships. Approximately 70% of the organizations receiving grants in 2022 were new recipients that have never received a TMF grant or have not received one in the last three grant cycles. "As TMF continues to shape its grants ministry to invest in communities and strengthen nonprofit organizations, we are thrilled our footprint has expanded with the addition of new partners," Director of Grants Wendy Abel said. "Furthermore, we have taken additional steps to invest in nonprofit leaders by leveraging our expertise in cohort development to create a cohort specifically designed for our grant recipients."The new grant cohort will meet four times in a year to offer training and to continue enhancing the metrics TMF uses to bolster nonprofit success. "We want to be more than a funder," Wendy shared. "We want to be a partner, investing in the sustainability and health of these organizations. This new cohort will enhance our work, support local leaders, and amplify the mission-driven work of organizations across two states."
About Texas Methodist Foundation
Texas Methodist Foundation is a nonprofit organization dedicated to empowering the church to achieve its God-appointed mission, and living our values of servanthood, integrity, and competence. Texas Methodist Foundation is one of the largest Methodist foundations in the country offering assistance across the Wesleyan ecosystem through investments, loans, grants, leadership platforms, gift planning, and endowment services. Texas Methodist Foundation serves organizations throughout Texas and New Mexico. Texas Methodist Foundation is based in Austin, Texas. To learn more, please visit tmf-fdn.org.

The recipient organizations include:

29 Acres (Dallas, TX) – provides services to help meet the unique mental, physical, and social-emotional needs of area young adults with ASD.

Abara (El Paso, TX) – Seeks to inspire connections across divides through Border Encounters: training leaders and faith groups through 2-3 day reflective border experiences.

Agape Resource & Assistance Center, Inc (Plano, TX) – Provides housing and transformational services to homeless women & children to empower them to move from crisis and poverty to fulfilling self-sustaining lives.

Aldersgate Church (Lubbock, TX) – Engage unchurched and de-churched individuals by starting fresh expressions of church among already existing communities. start 20 Fresh Expressions of church by the year 2030.

Arlington Urban Ministries (Arlington, TX)- Providing utility and rent assistance, supportive or intensive case management, and additional services to neighbors in financial crisis.

Austin Youth & Community Farm, Inc., dba Urban Roots (Austin, TX) – Works to create a just food system that provides equitable access to nutritious, affordable, culturally appropriate food.

Candlelighters of the El Paso Area, Inc. (El Paso, TX) – Alleviate the isolation, pain, and confusion many families feel at the time their child is diagnosed with cancer.

CitySquare Paris TX (Paris, TX) – Continues to fight the causes and effects of poverty through service, advocacy, and friendship.

Counseling Paid Forward (Sugar Land, TX)- Exists to provide behavioral and mental health counseling to adults, adolescents and children otherwise unable to afford the care.

Cy-Hope Inc. (Cypress, TX) – Strengthens families and communities by establishing deep, consistent relationships through Hope Centers in underserved neighborhoods and a mobile STEM bus.

Dallas Bethlehem Center (Dallas, TX) – Outreach programs are focused in the areas of weekly food distribution and early Head Start educational programming.

Dallas Furniture Bank (Dallas, TX) – Provides household furniture that meets basic living standards to individuals and families who are transitioning out of homelessness or to others who are in need.

Dementia Friendly Fort Worth (Fort Worth, TX) – Exists to create a community that honors, values, supports, and includes people living with dementia.

Denton County Friends of the Family (Denton, TX)- Provides emergency shelter, advocacy, counseling for adults, children and adolescents, legal services and transitional housing services to victims of domestic violence and sexual assault.

El Pasoans Fighting Hunger Food Bank (El Paso, TX) – Combats the hunger crisis in their region by strategically procuring and distributing nutritious food through community partners.

FAM Houston (Houston, TX) – Working for justice by building empowered community among refugees, immigrants, and local Houstonians through practices of hospitality, mutuality, storytelling and inclusivity.

FUMC Dallas (Dallas, TX) – Collaborative afterschool violin program at Casa View Elementary serving low-income students of color.

FUMC Georgetown (Georgetown, TX) – The Getsemani Center improves the conditions of children and families living in poverty through programs and services that provide systemic changes and quantifiable educational outcomes.

FUMC McAllen (McAllen, TX) – Enlaces is a Spanish-language worship service that will meet in a "third space" in our community, that is to a say, a place where people outside the church are already comfortable.

Floresville UMC (Floresville, TX) – Pioneering Digital Spaces is a project which will benefit Floresville UMC and other neighboring UMC congregations as they seek to reach the mission field beyond the walls of the local church.

Forest Forward (Dallas, TX) – Partners with the community to drive equitable development, economic mobility, and improve outcomes for children, residents, and families of the South Dallas community.

Golden Age Home (Lockhart, TX) – Dedicated to serving individuals requiring assisted living supports through the promotion of independence & enhancement of their quality of life.

HACA Scholarship Foundation, Inc. d/b/a Austin Pathways (Austin, TX)- Engage youth residing in subsidized housing who are in primary or secondary education to promote academic and personal potential.

Jewish Family Service of Greater Dallas (Dallas, TX) – Works to address the root causes of poverty in the North Texas region by supporting low to moderate income individuals and families as they work to create a financially, emotionally, and nutritionally secure future for themselves and their loved ones.

Journey of Faith Church (Humble, TX) – The Church Can Happen Anywhere (CCHA) initiative is a new, innovative approach to evangelism for Journey of Faith (JOF).

Justice for All Immigrants (Houston, TX) – The Survivors Assistance Project provides comprehensive legal services to immigrant victims of sexual assault, domestic violence, dating violence and sex trafficking victims, who cannot afford legal representation.

Magdalena Ministries, Inc (San Antonio, TX)- Serves women and their children experiencing family violence and facing homelessness.

McKinney Memorial UMC (McKinney, TX) – The "Go Fish" Program will target mostly Millennials and Gen-Zers (age 18-35) along with their kids who aren't otherwise involved in church or who are post-church.

Memorial Assistance Ministries (Houston, TX) – Creates opportunities for families to become stable and empowered through education, personal resource development, and assistance.

Mercy Street, Inc. (Dallas, TX) – Exists to cultivate mutually-transforming relationships with inner-city youth through Christian mentorship.

Metrocrest Services, Inc. (Farmers Branch, TX) – Provides programs for individuals, families, and seniors that lead to self-sufficiency and foster independence in Carrollton, Farmers Branch, Addison, Coppell, and Dallas in Denton County.

New Hope Housing, Inc. (Houston, TX) – Helping people mend their lives by providing affordable, beautiful housing with services.

Project Transformation North Texas (Dallas, TX) – Transform communities by engaging children, college-age young adults, and churches in purposeful relationships.

The Restoration Team (Houston, TX) – Home repair ministry.

Saranam (Albuquerque, NM) – Empowers families to end their homelessness and poverty through housing, education and supportive communities.

Sharing Life (Mesquite, TX)- Strives to end hunger and poverty by demonstrating compassion to those in need through food, clothing, financial resources, and educational programs.

Small Steps Nurturing Center (Houston, TX) – Comprehensive, high-quality early childhood education program that prepares children living in poverty for success in elementary school and life.

St. Luke's UMC – Gethsemane Campus (Houston, TX) – SpeakUp Gulfton is a cohort-based, hybrid ESL program. Utilizing Burlington English, a licensed program for English language acquisition, newcomers to the United States will engage in online and in-person instruction.

St. Paul's UMC (Albuquerque, NM) – Outreach to forty-five daycare families to develop relationships and Dinner Church, where food boxes are distributed once a month during our Drive-Thru Dinner Church.

Synergy Wesley Foundation (Richardson, TX) – A diverse and inclusive campus ministry.

Texas Ramp Project (Richardson, TX) – Establish regional wheelchair ramp-building programs across Texas.

Traffick911 (Addison, TX) – Exists with the sole purpose of freeing youth from sex trafficking by building trust-based relationships.

UCF Wesley Foundation (Corsicana, TX) – The Christian Leadership Center equips students to address 21st-century challenges through their faith, theological education, and vocational discernment.

University of Houston College of Nursing (Houston, TX) – Provides primary care services for people who have limited or intermittent access to health care in a traditional setting because they lack health insurance, have limited ability to pay, or are experiencing homelessness.

Upper Room Heights (Houston, TX) – Creating a full online discipleship pathway for adults, youth and children.

The Way Back House (Richardson, TX) – The mission of The Way Back is to provide re-entry services to formerly incarcerated individuals in North Texas, so they may change the trajectory of their lives and participate in society with the tools and skills to be successful.

Wesley-Rankin Community Center (Dallas, TX) – Identifies and bridges gaps in education, health, and skills development by providing multigenerational programs that empower families to access their full potential.

Whitby Road Alliance DBA Providence Place (San Antonio, TX) – Multi-purpose programming to various populations, including adult survivors of complex trauma, women facing an unplanned pregnancy, families with children under the age of three and children, and youth in foster care.

Youth and Family Alliance dba LifeWorks (Austin, TX)- Youth services organization that provides comprehensive housing, counseling, workforce, and education services.